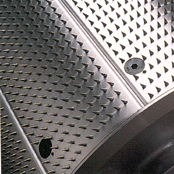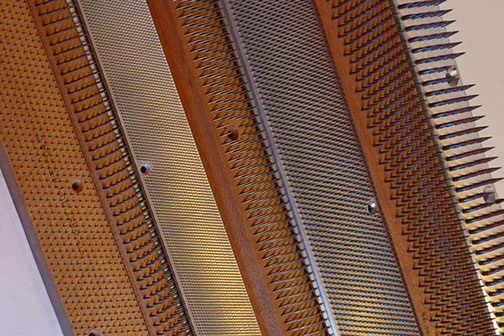 Metalag Alumunium Staves
Metalag Aluminium Alloy Staves
Unique Design
The unique design of the STEWARTS interlocking aluminium alloy METALAG stave has firmly established itself in the World's fibre industries with its extended life and strength. Many hundreds of 1000s have been supplied to well over 60 countries over the past 60 years and their accuracy and long life are now well known. Indeed some of the original staves are still running after many repinnings. For high density pinning, N.I.F. (non-interference fit) METALAG staves have now demonstrated their accuracy and reliability.
STEWARTS patented METALAG staves are made from aircraft quality aluminium alloy extrusions. This is a strong and uniform material which can easily withstand broken pins without itself being damaged.
Interlocking Staves
The patented interlock between STEWARTS METALAG staves means that adjoining staves contribute to the total strength of the assembly, and greatly reduce the chance of a catastrophic failure during a card smash event.
The advantages of main METALAG Staves are as below :
Lightweight, high strength aluminium alloy construction
Interlocking fit, virtually smash proof
Fewer screw holes for easier fitting and removal
Fire Resistant, and unaffected by humidity
Carbon steel METAPIN pins in aluminium staves and lags have a longer life span
Double width legs can be achieved for easier replacement
Extra high pin-point density can be achieved with N.I.F. (non-interference fit) pinning
Proven over 60 years in over 6o countries
Greatly extended life gives excellent value for money and reduces running costs
SKU : SKU
Category : LAGS & STAVES
Datasheet : -
Inquiry
Tags :