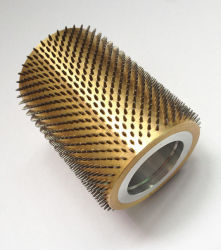 Perforation Rollers
Perforation Industry - Pinned Products
STEWARTS Pinned Perforation Rollers are high precision parts, designed and manufactured in many different variations to meet our customer's requirements for both Hot Needle Perforation and Cold Needle Perforation.
Perforation Hole diameter – 0.05mm to 5.00mm, dependent on the requirement, material and pinning density.
Pinning density up to 360 pins per square inch.
Pin projection 1mm to 10mm, the pinning arrangement can be square, diamond, spiral, etc. Almost any arrangement can be achieved to meet customer requirements.
Base material can be brass, aluminum, nylon, steel etc to meet customer requirements.
Accuracy
The accurate and uniform pin-point concentricity ensures even perforation from a pin prick to the full pin diameter. The pin-point accuracy makes setting easier and results in more accurate perforation. The smooth, but sharp pin-point produces a clearly defined hole with clean running and little drag.
Cold Perforation
Self contained modular design.
Free running, driven by the material being perforated .
Quick release cam-operated bearing blocks to disengage the Pinned Roller ensures an accurate return to the original setting.
Easily adjustable perforation depth.
The Bristle Roller can be varied in density and stiffness, Rubber Rollers are also available.
Pin wear is virtually eliminated.
Hot Perforation
STEWARTS micro perforation rollers are manufactured in a range of materials to suit the customers requirement.
The full range of pinning densities are available on request.
SKU : SKU
Category : PERFORATION ROLLERS
Datasheet : -
Inquiry
Tags :