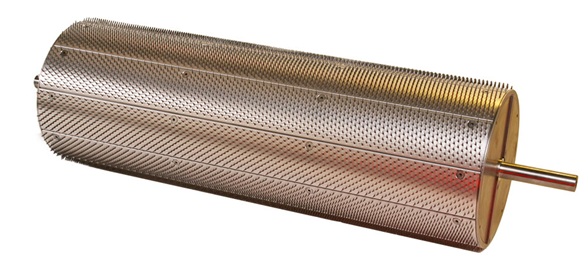 Opening and Cleaning Rollers
Pinlocked™ Opening and Cleaning Rollers and Blowroom Rollers
Integral Construction, Advance Design
The STEWARTS family of Opening and Cleaning pinned Blowroom Rollers is an integrated range of products all designed to take full advantage of the qualities of aluminium alloy extrusion and long life carbon steel pins. The opening and cleaning blowroom rollers are designed and manufactured to a very high engineering standard and are dynamically balanced before being despatched.
Blowroom Roller Pins have a long life!
Pins are drawn from high grade carbon steel that is hardened, then tempered and finally, polished. The grain of the metal and the machining marks of the pin all run along the same axis, so that the fibres can float freely around the pin-point, and with no snags to catch fibres there is no wear to the pin.
The working lifetime of pinned roller has been well appreciated by those who have been regularly replacing card-wire rollers. It is common to find STEWARTS Rollers still running reliably after many years.
SKU : SKU17119
Category : PINNED SPIKED ROLLERS
Datasheet : -
Inquiry
Tags :